Description
If you're an accounting firm, HR consultant, or other professional service provider expanding into government contracting, this modern capability statement is an ideal way to highlight your company's expertise and services. The modern capability statement template is perfect for accounting firms, business consultants, staffing agencies, or other professional service providers with an impressive line of services. This modern business consulting capability statement template includes:
About Us: This is a short, attention-grabbing overview of your business. This should tell reviewers what you do and how you can support government agencies.
Core Competencies: Core competencies are the areas in which your company excels. To be the most effective, these should directly or indirectly connect to the government contract you're applying for. Make sure to update this section according to the opportunity. This capability statement template uses a text-driven design.
Why Choose Us: This section is where you would include your key differentiators. These are your business' aspects that make you stand out from your competition. For example, does your business have extensive experience in something required for the contract? Maybe your team has in-demand certifications or clearances? Or does your business offer an applicable service that your competition doesn't?
Customers: If you have experience with government agencies or major brands, this is where you can add your customers' logos (with permission) or their names.
Business Overview: This area holds your business' general information such as the headquarters, other locations, social economic status, DUNS, Cage Code, NAICS Codes, and other pertinent information.
Certifications: This area is where your certifications can be displayed visually.
Services: If your company offers multiple services, this is the ideal place for them. Group them by area and explain how these services offer an advantage to your clients.
Experience: Provide a listing of your current and relevant experience.
NAICS Codes: Although the first page had primary NAICS Codes, this offers you additional space for secondary NAICS Codes that are applicable to your company. You Can also remove this section and expand the experience section as needed.
It is important to note that this professional capability statement template is provided in both Microsoft Office 2016 Word Docx and PDF format. If an older Microsoft Office Word program is used to edit this capability statement Docx template, the formatting may be changed and need to be adjusted.
Please contact us before purchasing if this concerns you.
All photos in the consulting capability statement template are placeholders and can be easily changed out in Microsoft Office Word or Adobe.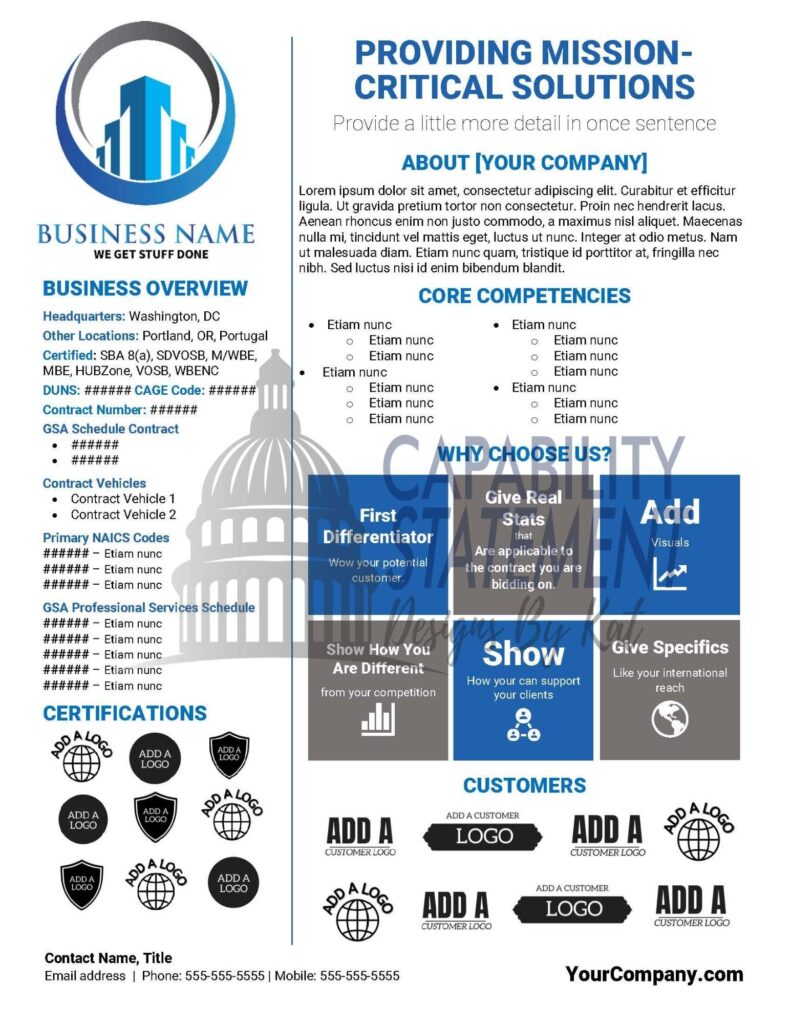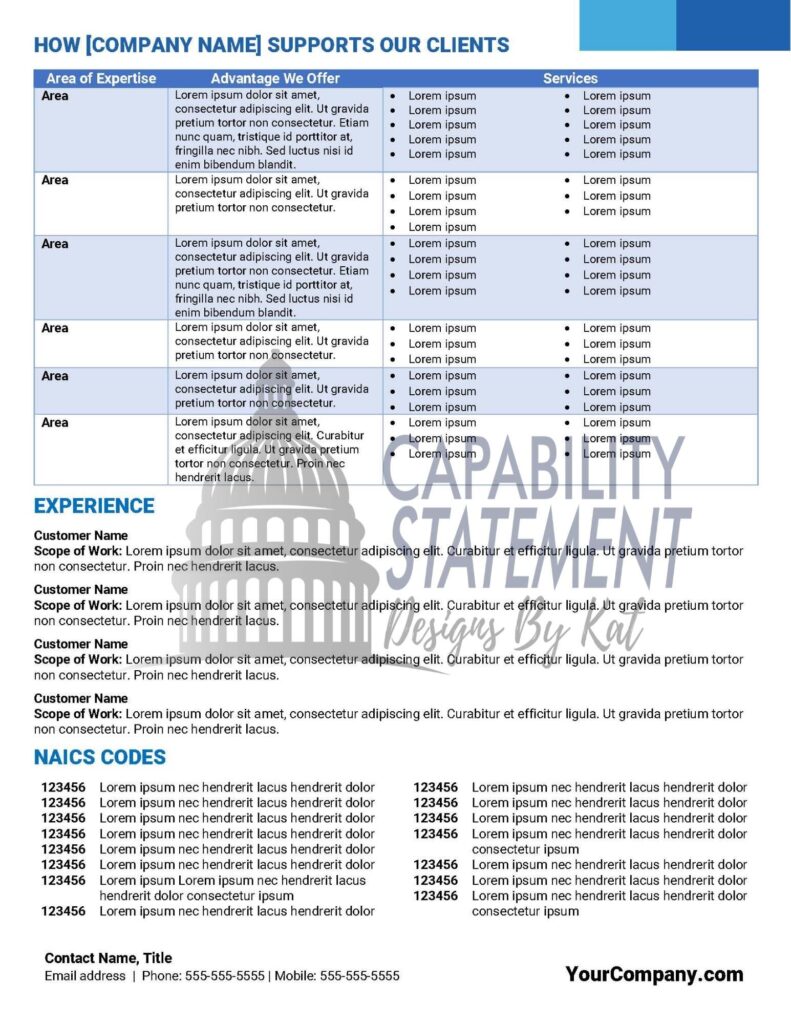 By purchasing this or any other template on CapabilityStatementDesigns.com, you agree to our Terms of Use policy.