Description
The design of the Moving Company Capability Statement Template is ideal for professional moving companies looking to expand into government contracting. This two-page template boasts a modern, clean aesthetic that effectively grabs the reader's attention, making it the perfect choice for showcasing your moving services.
This comprehensive template for professional movers includes the following sections:
About Us: Within this section, you can provide a concise yet compelling overview of your business. This summary will help reviewers grasp your company's nature and how it can meet their specific needs.
Business Snapshot: Here, you can present essential business details, such as your address, contact information, DUNS (Data Universal Numbering System), Cage Code, certifications, and relevant industry codes.
Core Competencies: This area highlights the core strengths and competencies that distinguish your company. It should directly or indirectly relate to the bid you're pursuing. Feel free to customize this section based on the specific opportunity. The provided photos can be easily replaced with alternative images or text.
Why Choose Us: In this section, you can outline the unique attributes of your business that set you apart from competitors. Consider highlighting features such as tracking services, specialized clearances, 24/7 availability, or expertise in moving military personnel on and off bases.
Experience: List your current and pertinent experience to demonstrate your qualifications and track record in the moving industry.
Footer: The footer area is an ideal location for including your contact information, as well as important details like your DUNS number and CAGE code.
This template is tailored to meet the needs of moving companies entering the realm of government contracting, providing a visually appealing and informative format for presenting your capabilities.
This capability statement template is available in Microsoft Office Word 2016 (Docx) and PDF formats. Please note if an older Microsoft Office Word is used to edit this template, the formatting may be off and may need to be adjusted.
Please contact us before purchase if this concerns you.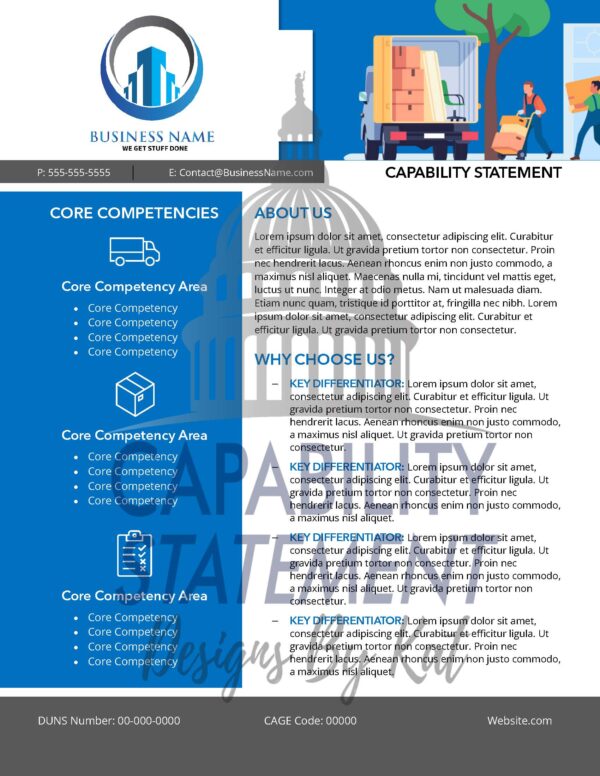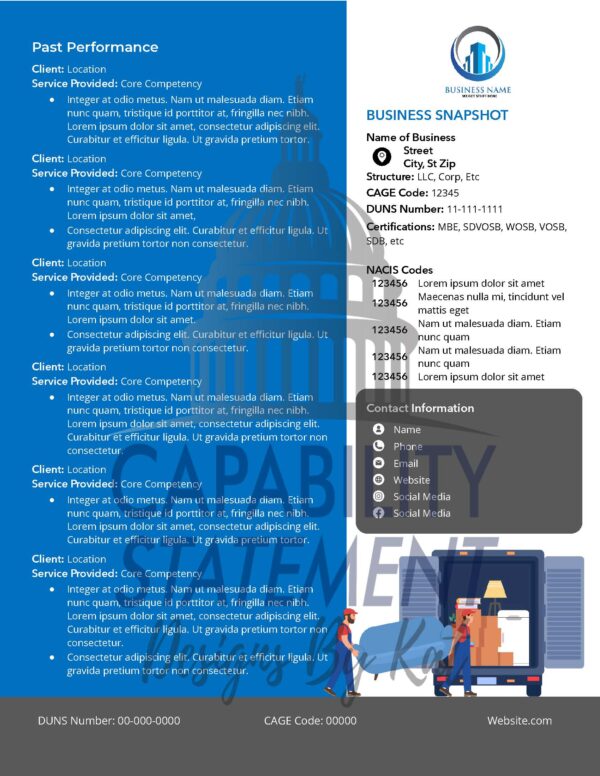 By purchasing this or any other template on CapabilityStatementDesigns.com, you agree to our Terms of Use policy.