Description
Please note that when you buy through links on this site, we may earn a commission.
Are you a human resources consulting firm or staffing agency expanding into government contracting? This attractive capability statement is perfect to showcase your organization's ability. The text-driven capability statement design is perfect for experienced firms. This modern construction capability statement template includes:
About section: Add a short, but attention-grabbing overview statement of your business to help reviewers understand what you do and how you can help them with their needs.
Core Competencies: Core competencies are what your company excels at and directly or indirectly connects to the bid your business is applying for. This area should be updated based on the opportunity. This design uses a text-driven design to allow your expertise to shine.
Key Differentiators: This area is where you would list the aspects of your business that set you apart from the competition. For example, does your company offer speciality finishes? What about hard to get certifications or clearances? Do you have patented techniques?
Experience: List your current and relevant experience. This template is set up to provide an overview of your experience, client list, or project information.
Company Information: This area is where you should add your company information including address, contact information, DUNS, Cage Code, NAICS Codes, and other pertinent information.
This capability statement template is available in Microsoft Office 2016 Word Docx and PDF format. Please note if an older Microsoft Office Word is used to edit the Docx template, formatting may be off and may need to be adjusted.
Please contact us before purchase if this concerns you.
Please note that all photos in the capability statement for human resources consulting template are examples and can be easily changed out in Office Word.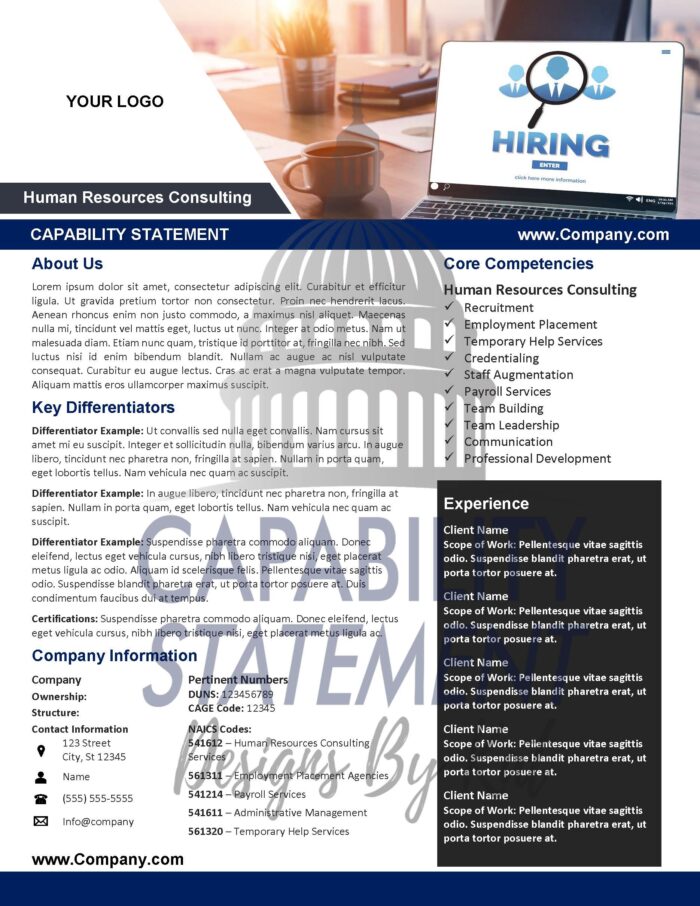 By purchasing this or any other template on CapabilityStatementDesigns.com, you agree to our Terms of Use policy.